Boarding Your Pet at Elm Point
We are proud to offer the region's premier boarding facility for both dogs and cats. When you are planning to be away and cannot take your pet along, consider taking advantage of our boarding options. To make reservations call 636-757-7350.

We have staff available at Elm Point 24/7.
Your pet can enjoy our beautiful and exceptional boarding facilities with spacious runs!Boarding at Elm Point Animal Hospital
Your dog will have access to our secure and supervised outdoor exercise courtyard!
Your pet will experience our loving staff!
We'll provide bathing and brushing at pick-up, at the request of the owner!
Guidelines for Pet Boarding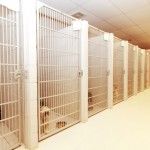 To ensure the safety of our kennel attendants and other boarders, Elm Point Animal Hospital reserves the right to refuse boarding services to pets that might create dangerous situations. Dogs or cats with a history of biting or clawing will not be allowed to board at Elm Point. You are required to disclose any behavioral issues or problems of your pet at the time of check-in.
You may bring washable blankets and towels for your pet. Stuffed pet beds are discouraged as these cannot be properly sanitized.
For your pet's protection, all vaccines for both dogs and cats must be current. Please schedule an appointment with one of our doctors for a physical examination and to administer any past due to vaccines prior to your pet boarding with us.
We require that all dogs are current for Bordetella (a kennel cough vaccine), Rabies, Distemper and Canine Flu.Boarding Area
If you wish to supply your own pet diets we will follow your feeding instructions.
All pet medications must be administered by one of our Certified Technicians. Medications must be brought in their original containers with prescription labeling and will not be mixed with feedings
Boarding Amenities and Fees
Regular Boarding Amenities
Standard run or kennel with blanket
Boarding in kennels or runs are based on weight.
(We do not accept reservations for a specific runs or kennels)
Daily feedings per your instructions
Walked 4 times per day
Daily inspection by a Veterinarian
Sanitizing of kennel daily (more if needed)
Regular Boarding Fees For Dogs
Overnight Boarding – $26.00 per day
Doggie Daycare – $15.00 per day
Daycare is for pets being dropped off between 7 am and picked-up by close of the same business day.
For Cats
Drop Off and Pick Up Policies
Boarding hours are Monday-Friday from 7 a.m. to 6 p.m.
Saturdays from 7 a.m. to 1 p.m.
Please allow at least 15 minutes for check in or pick up.
Boarders are charged a full day regardless of when pet is checked in.
All boarders must be checked out by 12 p.m. to avoid being charged for any additional day of boarding.
We offer Sunday pick-up between 2 p.m. and 4 p.m. – must call ahead
There is an additional fee to medicate your pet while you are gone, and also for the special care required for our diabetic guests.