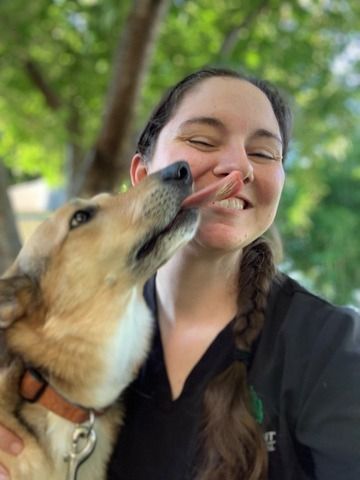 Becky Bax:
Becky started at Elm Point Animal Hospital in 2017. She began schoool at The Animal Behavior College in 2018 and finishing her internship she received her dog trainer certification in 2019. She enjoys spending her time reading and playing with her dogs Kenzy and Lindy.

Whether you're looking for basic puppy training or some training for your adult dog, we have multiple training options for you to choose from!

Free Consultations
We offer free consultations with your pet and our qualified trainer where you can discuss your goals for your dog and what the best recommendations would be that would most suit you and your needs!

Day Training
Want your puppy to be trained while your at work? Drop your pet off for the day and our trainer will work with them multiple times throughout the day! You'll be given a daily report card to track their progress!
Your dog will learn basic obedience in broken-up sessions throughout the day for a total time of one hour. During the time they are not training, they will be with our Kennel Staff getting socialization with some fun time outside!​​​​​​​
Pricing (Day-Boarding must be included and is added into the overall price):

1 Session . . . $50 total

$34 for Training + $16 for Day-Boarding

Package of 5 Sessions . . . $235 total ($15 Savings)

$155 for Training 5-Pack + $80 for Day-Boarding 5-Pack

Evening Classes – New Setup!!!
Come to class with your dog to learn how to teach them basic obedience with other families. Due to the precautions we are taking with Covid-19, we are only allowing one person per dog in the classroom at a time.
Tier 1 Evening Classes

This class is for both puppies and adults! Learn the beginnings of basic obedience in an 8-week course!
8-Week Course . . . $160

Tier 2 Evening Classes

Learn more advanced ways to challenge your pet and help them grow in a 6-week course!
Must have completed Tier 1 or have been given the okay by our instructor during a consultation.
Offered intermittently throughout the year.
6-Week Course . . . $132
Private Sessions
If you'd like one-on-one attention for you and your dog with our trainer, this is a great option!
Sessions are 30 minutes.
Pricing: $45 per session
Requirements for Day-Training, Evening Classes, and Private Sessions
Vaccines are required to be up to date, including Distemper, Bordetella, and Flu, as well as Rabies once they are old enough.
Your puppy does not have to be a particular age in order to begin training, but we do recommend that they do at least have 2 rounds of their Distemper, Bordetella, and Flu vaccines as a precaution.