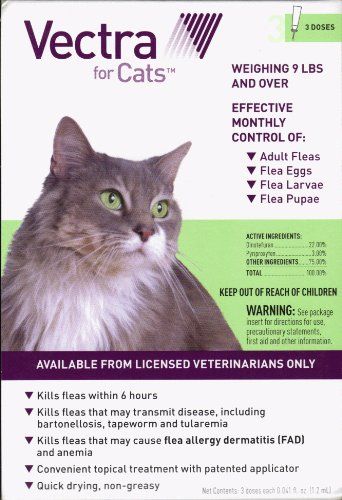 Q: What is Vectra (Dinotefuran + Pyriproxyfen) for Cats and Kittens?

A monthly topical flea control products that provide long-lasting protection against all stages of fleas. Applying once a month all through the year provides relief from:
Flea infestation and protection from disease transmission to kitten or cats.
Kills fleas within 6 hours.
Kills on contact; fleas do not have to bite to die.
Protects against flea-borne diseases including tularemia, rickettsiosis, bartonellosis and tapeworm.
Protects cats from all stages of fleas: eggs, larvae, pupae and adults.
One application protects your cat for 1 month.
Contains an insect growth regulator.
Protection for kittens as young as 8 weeks of age.
Veterinary exclusive
Contact Elm Point Animal Hospital today to order or to consult with one of the doctors regarding your pet and Vectra!